Quality Roof Vent Installation in Nassau County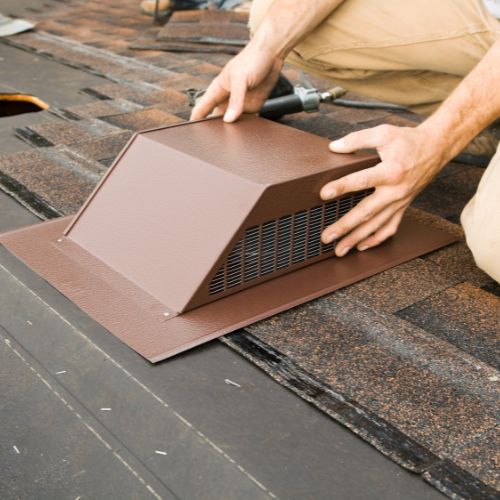 A Team of Experienced Roofers
For many homeowners, the roof is primarily about keeping the home dry. Yet, a crucial aspect often overlooked is roof ventilation. Proper roof and attic ventilation can bring about significant benefits, from lowering heating and cooling costs and improving interior comfort to prolonging the lifespan of your roof shingles.
In the summer, adequate ventilation allows hot air in the attic to escape, reducing the load on your air conditioning system. In contrast, it works alongside good attic insulation in the winter to maintain a cold roof surface, preventing snow from melting and freezing to form ice dams along the eaves. These benefits make roof vent installation a valuable investment for your home in Nassau County.
At Advanced Roofer, we understand the importance of a well-ventilated roof. With over 20 years of experience, our fully licensed and insured technicians provide expert roofing solutions, including roof repair, replacement, and roof vent installation. Contact us today for a free quote for roof vent installation in Nassau County and enjoy the comfort and peace of mind a properly ventilated roof brings.
Nassau County Expert Roof Vent Installation
When it comes to installing a new roof, ventilation is key. We've seen many homeowners fall into the trap of trusting companies that install their roofs without including a roof vent. This leads to a failing roof a few years later due to heat and moisture buildup, causing irreversible damage. However, that's not how we operate at Advanced Roofer.
Understanding the importance of a roof vent, we ensure every roof we install is properly ventilated to enhance its durability and efficiency. Our expert technicians are skilled and knowledgeable, ensuring each installation we handle meets the highest standards.
Looking for certified and trusted roof vent installers in Nassau County? Look no further! We at Advanced Roofer provide dependable roof vent installation, repair, and maintenance. Don't let poor ventilation degrade your new roof; contact us now for a free quote!
Why is a Roof Vent Important?
Roof ventilation plays a pivotal role in enhancing your home's energy efficiency and the longevity of your roof. It allows hot air in the attic to escape, promoting a more efficient operation of your heating and cooling system. Additionally, it prevents moisture buildup, safeguarding attic and roofing materials, such as insulation and shingles, from potential damage.
In the winter months, proper attic ventilation is crucial in preventing the formation of ice dams on your roof. These ice dams occur when water from melting snow freezes along the roofline, potentially causing significant damage to your home. The trapped water can't drain off the roof properly and might find its way under shingles, leading to leaks.
A well-ventilated roof avoids such scenarios by working hand in hand with your attic's insulation to keep the roof surface cold. This ensures snow won't melt on the roof, freeze, and form ice dams along the eaves. Ensure your roof is well-ventilated and protect your home from potential damage.
Roof Vent Installation in Nassau County
When it comes to roof ventilation, the one-size-fits-all approach doesn't work. Different types of roof vents cater to different roofing requirements. Therefore, it's important to understand the different kinds of roof vents to choose the best one for your home:
Ridge Vents: This vent is installed at the peak of a sloped roof, allowing warm, humid air to escape from the attic. They provide an even ventilation distribution along the entire underside of the roof.
Soffit Vents: Installed in the eaves of your house, soffit vents allow cool, fresh air to enter the attic. They are typically used in conjunction with ridge vents to promote good airflow.
Gable-End Vents: These are installed in the walls at the peak of your gable ends. While they're less effective than the ridge or soffit vents in promoting even air distribution, they're still a suitable option, especially for older homes.
Powered Attic Ventilators (PAVs): These mechanical devices are installed on the roof or in the gable ends and use electric power to expel hot air from the attic. Though effective, they can sometimes create negative pressure in the attic, pulling conditioned air from the home into the attic.
Proper roof vent installation in Nassau County is essential to prevent the buildup of moisture and heat in your home. The right roof vent not only extends the life of your roof but also enhances the comfort of your home.
Looking for the best vent for your Nassau County roof? We'd love to help! Speak to our roofing specialists today at Advanced Roofer for advice, installation, and maintenance of roof vents.
Nassau County Ventilation Installation for Longer-Lasting Roof
Ensuring that your roof is well-ventilated is crucial for its longevity. If you need clarification about your roof's ventilation status, it's time to call in the experts. At Advanced Roofer, we specialize in identifying and rectifying roof ventilation issues. Our expert team can recommend and implement the perfect solution to ensure optimal roof performance. Enhance the life of your roof and the comfort of your home with the right roof ventilation solution. Contact us today for a free estimate on your roof vent installation in Nassau County.
We are so grateful we chose Scott and his company to install our new roof. Him and his crew were professional and friendly. The whole process was quick and he gave us a very reasonable price. We will definitely recommend him to our friends and family!
Scott's large crew was experienced, thorough, and efficient. They adeptly removed three layers of old roofing and expertly installed our new roof in a single day. Scott was directly involved in overseeing progress and remained on site afterwards to survey all details and ensure a full cleanup. All our questions were answered before and after the work was completed. We feel confident in recommending this company. Scott and his workers take their job seriously, gave us personal attention, and delivered results that resulted in both good value and high quality.
Dori Hirsch-Amendola
2022-05-21
We had such a great experience with Scott and his crew for our roof replacement and new vinyl siding job. From the moment I first contacted him, Scott always responded quickly and stayed in touch with updates regarding supplies coming in, when he'd be able to begin the jobs, etc. This was a big job that also included closing off an area in the front of the house where the roof line was not originally built straight across, and Scott completed that alteration beautifully. He and his crew ripped off our old roof and completed the replacement in one day-and it's a big roof, and also included replacing two skylights and removing a chimney pipe and box around it on the roof! We had multiple estimates for our project and Scott's price was by far the best. Soon after our roofing job was done, Scott and his crew also did an excellent job installing our new vinyl siding. By the time they were done, our house looked brand new!
It was a pleasure working with Scott and his crew. They were incredibly professional, efficient, responsive, reliable and fairly priced. Really couldn't be happier with the final results on the replacement of all siding and gutters. Great experience.
Very satisfied and highly recommended - 5 stars Everything you want and expect from a company. Fair price, quality material and workmanship and top notch service. I highly recommend Scott and his crew and know I made the right choice when I choose them to replace my roof.
Scott the owner of Advanced Roofing & Siding came highly recommended from a client of mine. From the initial phone conversation to the estimate and hiring, Scott was an absolute professional! He was punctual, detailed with the process, gave honest advice and feedback with my questions and his pricing was fair. He brought the samples to my house and I was able to pick them out on the spot not having to run around, saving me time as well! He just finished the job and I could not be happier! Scott and his team were efficient, unbelievable craftsmanship and so clean! At the end of each day they left my house immaculate and organized. His team was so nice as well. They all pay attention to the smallest details, which means so much. Scott and his team achieved my vision and I could not be happier! I did a full roof replacement (had 3 layers btw), new board and batten siding and new gutters. If you are looking for any roof or siding needs, call Scott at Advanced Roofing & Siding, hands down the best! Thank you Scott and your team, I am grateful!
Jeanine Navarro
2022-03-05
We highly recommend Advanced Roofing! Scott and his team were very professional, quick, efficient and reliable. They did an amazing job installing a new roof, siding and gutters. Scott made the whole process easy for us and pricing was very competitive. We had called five different companies and Scott was the only one who actually took time guide us through the process and offer suggestions. His team was so thorough and professional throughout. Highly recommend!!!!
Words can't describe how great the entire project went from start to finish. The end result has brought a lot of attention and compliments in the neighborhood. If I could give more than 5 stars I would. Highly recommend using Advanced Roofing Siding and Gutters to anyone. I still have their sign displayed on my lawn in hopes they receive more business.
Robert DiGiacomo
2022-02-09
Absolutely one of the best experiences I have had with a contractor. Scott was a professional who offered a competitive estimate. What made the difference was when he and his amazing crew got to work. They did an amazing job in re-roofing my home, and left the property spotless when the job was done. I would highly recommend him for any of your roofing or siding projects. 5 Stars!