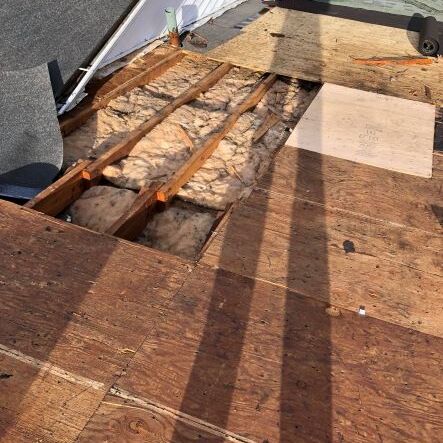 If you are experiencing a roof leak you may not know what to do. Often people aren't sure of the extent of the leak and don't know how to repair it on their own. This is where we come in quickly and with expertise that will make sure everything is done correctly. Here at Advanced Roofing Siding and Gutters, we provide services related to roof leak repair in West Babylon, NY, so we can get your roof back to normal as soon as possible.
Our team will come prepared and make any repairs necessary in a timely fashion. We understand it's critical for you to have a perfectly working roof that is able to protect your household. Contact us at 516-987-7478 if this is something that you need our help with.
If you are concerned you may have a leaky roof but aren't sure what to look for there are several things that may indicate you've got a leak. If you discover water spots on your walls or ceilings that recently appeared, you may have a leak coming from your roof. Look for any spots that might be mold, these can be signs of a leaky roof as well. If you have a safe way to take a look at your roof asses if you have any shingles missing or damaged, this can also be a sign of a leaky roof. Keep an eye on your gutters. If you notice they seem to be full all the time it may be due to debri coming off of your roof and clogging them. If you encounter any of these signs you need to contact a professional roofing company right away. If you give us a call, we should be able to make repairs quickly and get in front of further damage that is serious enough to require a new roof. We do offer roof inspection, so we can check out your entire roof system and asses any issues. We can also install a new gutter system if it turns out that a new one is necessary. No matter what we discover, we can help. 
Sometimes when the leaks or damage to your roof are large enough, you may need a new roof. Our team can handle any job big or small with the same level of excellence. We will talk through all of the options available to you so you know exactly what you are getting into. No surprises. You don't have to worry about wasting your time discussing something that isn't going to help you. We will only focus on the best solutions for your needs so you don't spend a penny more than necessary.
Having a leaky roof can be an inconvenience, to say the least. Fortunately, when you hire our company, you won't have to worry about your roof for very long. Our team is capable of handling roof leak repair in West Babylon NY quickly and we can discuss other services we offer as well. Not only do we keep your roof in excellent shape, but we are also capable of making sure it remains that way. Call us today at 516-987-7478. We might be able to help you faster than you think.