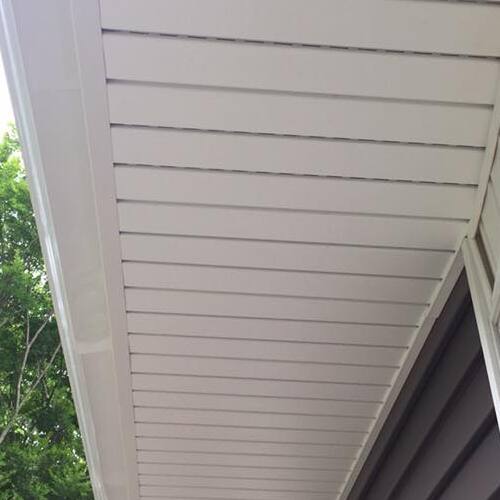 Repairs for Your Soffit and Fascia
Even if you don't know exactly what a soffit or fascia is, you should still understand they're parts of your roof that might get damaged over time. This explains why you need a contractor like us from Advanced Roofing Siding & Gutters to help you out when this happens. We can handle soffits and fascias in West Babylon, NY.
We will be there for you to help you with any issues related to your roof. Call us at 516-987-7478 to learn more.
If you've looked at your roof it would be difficult to miss seeing the soffit and facia. Notice the roof of your house is wider than the walls of your home. The soffit is comprised of the boards that underlay the overhang of your roof which provides protection from the elements. It also consists of the section that meets up with the siding or exterior walls of your home. The fascia is the part of your roof that your gutters hang from. Next time you look at your home, see if you can spot these two helpful parts of your roof. If you see anything you're not sure about give us a call.
When you run into an instance where the soffit and fascia cannot be repaired, no need to worry because we are able to handle the installation as well. When having a new roof placed in some instances you may need to have the soffit and fascia installed as well. The soffit and fascia generally don't need maintenance as often as other sections of a roofing system they should still be monitored so they can properly continue to protect your home. These are essential functions of your roofing system and will ensure longevity, they may even help your home stay cool.
When you're ready to assess the condition of your soffit and fascia, as well as the rest of your roof we are ready to do your roof inspection. We will do check all aspects of your roofing system and let you know of any issues we may discover. You can count on us to always be honest about the condition of your roof and any recommendations regarding optional courses of action to fix it. Whether you need a new roof installed or you must have a soffit and fascia replacement, we will level with you and help with the next steps.
Anytime you think your soffit and fascia might be in trouble, or if you would like to learn more about what we can do for you, give us a call today. If you haven't had yours inspected lately, this could be a great opportunity to ask us to come check things out. Our team is able to tackle soffit and fascia repair in West Babylon, NY, as well as any other roofing concerns that you may require help with. Call us whenever you believe you have a problem, and we will make sure to schedule a visit right away. We don't like our clients to have to wait around to receive the service they need, so we'll get back to you as fast as we can, where we can arrange a quick appointment. Contact us about your roof at 516-987-7478. We are ready to take care of your needs.