Professional Asphalt Shingle Roof Replacement and Repair in West Babylon, NY and all of Long Island
Finding the right roofing contractor for your needs can be frustrating. We understand that. That's why our experts at Advanced Roofing Siding and Gutters will always be there to help you with your roof and offer a wide range of services including installations and repairs. We also provide inspection and maintenance services. Moreover, you may want to speak to us concerning shingle roof replacement in West Babylon, NY since this is one of our specialties. Call us today if you need any of these services. We're happy to answer any questions you might have about our work. Just give us a call 516-987-7478.
Our company offers a wide range of services, including repairs, replacements, and new installations. We take care of any job quickly and efficiently. We offer quality service at an affordable price. We provide excellent customer support. We are committed to providing top-notch service every single time. We are dedicated to offering the best possible service to each client. We are proud of our reputation for excellence. We are happy to help you with any questions or concerns you may have. We are ready to assist you today!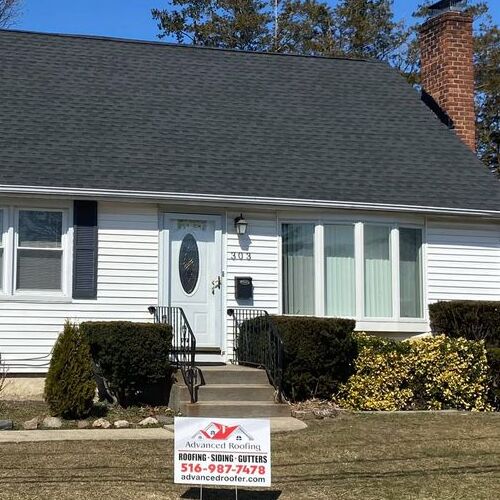 Let us help you with a small roofing problem before it escalates into something more costly. For instance, if you require shingle roof replacement in West Babylon, NY, you can call us anytime. There's no team similar to us in the area. We perform all of our jobs with accuracy, and we work quickly. Our work often speaks for itself.  Reach out when you want to know more or have questions. Call 516-987-7478 to speak to our professionals.
We are so grateful we chose Scott and his company to install our new roof. Him and his crew were professional and friendly. The whole process was quick and he gave us a very reasonable price. We will definitely recommend him to our friends and family!
Scott's large crew was experienced, thorough, and efficient. They adeptly removed three layers of old roofing and expertly installed our new roof in a single day. Scott was directly involved in overseeing progress and remained on site afterwards to survey all details and ensure a full cleanup. All our questions were answered before and after the work was completed. We feel confident in recommending this company. Scott and his workers take their job seriously, gave us personal attention, and delivered results that resulted in both good value and high quality.
Dori Hirsch-Amendola
2022-05-21
We had such a great experience with Scott and his crew for our roof replacement and new vinyl siding job. From the moment I first contacted him, Scott always responded quickly and stayed in touch with updates regarding supplies coming in, when he'd be able to begin the jobs, etc. This was a big job that also included closing off an area in the front of the house where the roof line was not originally built straight across, and Scott completed that alteration beautifully. He and his crew ripped off our old roof and completed the replacement in one day-and it's a big roof, and also included replacing two skylights and removing a chimney pipe and box around it on the roof! We had multiple estimates for our project and Scott's price was by far the best. Soon after our roofing job was done, Scott and his crew also did an excellent job installing our new vinyl siding. By the time they were done, our house looked brand new!
It was a pleasure working with Scott and his crew. They were incredibly professional, efficient, responsive, reliable and fairly priced. Really couldn't be happier with the final results on the replacement of all siding and gutters. Great experience.
Very satisfied and highly recommended - 5 stars Everything you want and expect from a company. Fair price, quality material and workmanship and top notch service. I highly recommend Scott and his crew and know I made the right choice when I choose them to replace my roof.
Scott the owner of Advanced Roofing & Siding came highly recommended from a client of mine. From the initial phone conversation to the estimate and hiring, Scott was an absolute professional! He was punctual, detailed with the process, gave honest advice and feedback with my questions and his pricing was fair. He brought the samples to my house and I was able to pick them out on the spot not having to run around, saving me time as well! He just finished the job and I could not be happier! Scott and his team were efficient, unbelievable craftsmanship and so clean! At the end of each day they left my house immaculate and organized. His team was so nice as well. They all pay attention to the smallest details, which means so much. Scott and his team achieved my vision and I could not be happier! I did a full roof replacement (had 3 layers btw), new board and batten siding and new gutters. If you are looking for any roof or siding needs, call Scott at Advanced Roofing & Siding, hands down the best! Thank you Scott and your team, I am grateful!
Jeanine Navarro
2022-03-05
We highly recommend Advanced Roofing! Scott and his team were very professional, quick, efficient and reliable. They did an amazing job installing a new roof, siding and gutters. Scott made the whole process easy for us and pricing was very competitive. We had called five different companies and Scott was the only one who actually took time guide us through the process and offer suggestions. His team was so thorough and professional throughout. Highly recommend!!!!
Words can't describe how great the entire project went from start to finish. The end result has brought a lot of attention and compliments in the neighborhood. If I could give more than 5 stars I would. Highly recommend using Advanced Roofing Siding and Gutters to anyone. I still have their sign displayed on my lawn in hopes they receive more business.
Robert DiGiacomo
2022-02-09
Absolutely one of the best experiences I have had with a contractor. Scott was a professional who offered a competitive estimate. What made the difference was when he and his amazing crew got to work. They did an amazing job in re-roofing my home, and left the property spotless when the job was done. I would highly recommend him for any of your roofing or siding projects. 5 Stars!