Quality Vinyl Siding Repair Suffolk County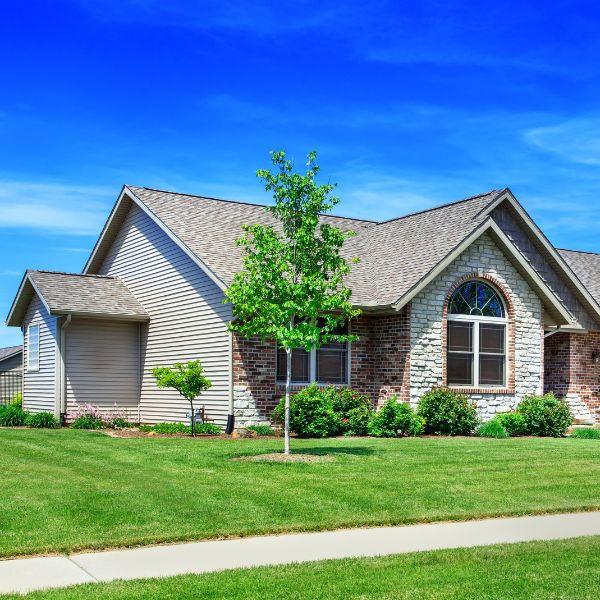 Experience Dependable Vinyl Siding Repair Today
Siding does more than create curb appeal. It protects your home from the elements. As the top barrier, it keeps moisture, debris, and pests from entering your home. Unfortunately, accidents happen that can damage your siding. When that happens, the experts at Advanced Roofer can repair the damage. 
When you need vinyl siding repair in Suffolk County, call Advanced Roofer for a free estimate and speedy service.
Vinyl Siding Contractor in Suffolk County, NY
Homeowners in Suffolk County, New York, tend to choose vinyl siding because it provides a lovely, durable, and low-maintenance exterior style. Vinyl siding withstands the elements in the harsh New York weather, but many times, Mother Nature wins. The freeze-thaw cycle and extremely strong winds can cause damage to siding, and so can the occasional stray baseball. 
The Advanced Roofer team can install new siding and repair pre-existing siding. Our goal is to deliver the siding services you need in Suffolk County to keep your home looking great. We can install siding in the color and style you want, and we can install the soffit and fascia that completes the look. 
When it's time to upgrade your siding, our team can visit your home and present design options to you. We will explain the installation process and talk to you about warranty options. If you need siding repairs, we can visit your home to inspect the damage, then present your options to repair or replace the damaged segments.
If you need vinyl siding repairs, replacements, or installation, call the experts at Advanced Roofer in Suffolk County for a free estimate.
Signs That Your Vinyl Siding Needs Repair
Vinyl siding is low-maintenance, but any materials on the outside of your home need occasional repairs and maintenance to stay in top condition. Siding can loosen from your home, especially during strong wind storms. It can break if an object hits it with force, and it can become damaged with mold or mildew. 
When you see signs of damage, we recommend fixing the problems as soon as possible. Water, animals, and wind can increase the damage and increase repair costs. Fixing the problem quickly keeps costs low and keeps the rest of your siding in good condition. 
If you notice damage to your siding, contact the friendly and experienced team at Advanced Roofer for a speedy estimate.
Top-Quality Vinyl Siding Installation & Repair Since 1993
For over 20 years, Advanced Roofer has provided outstanding services for homeowners in Suffolk County and Nassau County. We repair all vinyl siding and install new vinyl siding from highly respected manufacturers with exceptional warranties on products and labor. Our team has years of experience using tried-and-true installation and safety methods. 
As a roofing and siding company, we are dedicated to protecting homes from the weather in New York. Our team can repair, replace, and install siding, and we can take care of roofing needs that add more curb appeal to your home. 
Our team listens to your style and budget needs, then helps you design an exterior look that enhances your home's curb appeal. We answer questions and communicate the installation steps during the projects. 
We invite you to contact us to learn more about our professional roofing contractor services in Suffolk County, NY.
Suffolk County Vinyl Siding Repair FAQs
We understand that customers have questions about our services, so we have our brief FAQ section to answer them. 
Can you repair my siding throughout the year?
Yes. We can repair siding in most weather conditions. The safety of our crew is our top priority, and some weather conditions put them in danger. As long as the weather conditions are safe for our team, we can repair siding throughout the year. We recommend arranging repair services as soon as you see signs of damage. 
What is the cost for siding repairs?
All siding projects have different costs based on the square footage and siding products. We invite you to call us to arrange a free at-home estimate for repairs, replacement, or installation projects. 
What is the time frame for siding repair projects?
Some siding repair projects take a few hours, while others can take longer, depending on the extent of the damage. Our team works efficiently and safely to repair your siding.
Vinyl Siding Repair? Call Us!
Advanced Roofer has installed, replaced, and repaired siding in homes all around Suffolk County and Nassau County. We invite you to contact us today to talk about your next siding project and repair needs.
We are so grateful we chose Scott and his company to install our new roof. Him and his crew were professional and friendly. The whole process was quick and he gave us a very reasonable price. We will definitely recommend him to our friends and family!
Scott's large crew was experienced, thorough, and efficient. They adeptly removed three layers of old roofing and expertly installed our new roof in a single day. Scott was directly involved in overseeing progress and remained on site afterwards to survey all details and ensure a full cleanup. All our questions were answered before and after the work was completed. We feel confident in recommending this company. Scott and his workers take their job seriously, gave us personal attention, and delivered results that resulted in both good value and high quality.
Dori Hirsch-Amendola
2022-05-21
We had such a great experience with Scott and his crew for our roof replacement and new vinyl siding job. From the moment I first contacted him, Scott always responded quickly and stayed in touch with updates regarding supplies coming in, when he'd be able to begin the jobs, etc. This was a big job that also included closing off an area in the front of the house where the roof line was not originally built straight across, and Scott completed that alteration beautifully. He and his crew ripped off our old roof and completed the replacement in one day-and it's a big roof, and also included replacing two skylights and removing a chimney pipe and box around it on the roof! We had multiple estimates for our project and Scott's price was by far the best. Soon after our roofing job was done, Scott and his crew also did an excellent job installing our new vinyl siding. By the time they were done, our house looked brand new!
It was a pleasure working with Scott and his crew. They were incredibly professional, efficient, responsive, reliable and fairly priced. Really couldn't be happier with the final results on the replacement of all siding and gutters. Great experience.
Very satisfied and highly recommended - 5 stars Everything you want and expect from a company. Fair price, quality material and workmanship and top notch service. I highly recommend Scott and his crew and know I made the right choice when I choose them to replace my roof.
Scott the owner of Advanced Roofing & Siding came highly recommended from a client of mine. From the initial phone conversation to the estimate and hiring, Scott was an absolute professional! He was punctual, detailed with the process, gave honest advice and feedback with my questions and his pricing was fair. He brought the samples to my house and I was able to pick them out on the spot not having to run around, saving me time as well! He just finished the job and I could not be happier! Scott and his team were efficient, unbelievable craftsmanship and so clean! At the end of each day they left my house immaculate and organized. His team was so nice as well. They all pay attention to the smallest details, which means so much. Scott and his team achieved my vision and I could not be happier! I did a full roof replacement (had 3 layers btw), new board and batten siding and new gutters. If you are looking for any roof or siding needs, call Scott at Advanced Roofing & Siding, hands down the best! Thank you Scott and your team, I am grateful!
Jeanine Navarro
2022-03-05
We highly recommend Advanced Roofing! Scott and his team were very professional, quick, efficient and reliable. They did an amazing job installing a new roof, siding and gutters. Scott made the whole process easy for us and pricing was very competitive. We had called five different companies and Scott was the only one who actually took time guide us through the process and offer suggestions. His team was so thorough and professional throughout. Highly recommend!!!!
Words can't describe how great the entire project went from start to finish. The end result has brought a lot of attention and compliments in the neighborhood. If I could give more than 5 stars I would. Highly recommend using Advanced Roofing Siding and Gutters to anyone. I still have their sign displayed on my lawn in hopes they receive more business.
Robert DiGiacomo
2022-02-09
Absolutely one of the best experiences I have had with a contractor. Scott was a professional who offered a competitive estimate. What made the difference was when he and his amazing crew got to work. They did an amazing job in re-roofing my home, and left the property spotless when the job was done. I would highly recommend him for any of your roofing or siding projects. 5 Stars!