Roofing Repair in Suffolk County, NY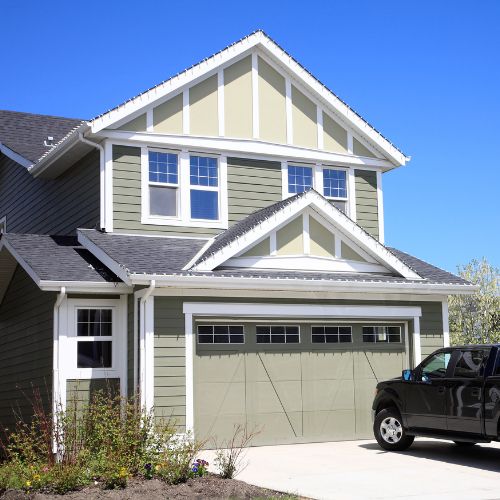 Dependable Suffolk County Roof Repairs
Roof repair is essential for maintaining the integrity and longevity of your home or building. A damaged roof can lead to several issues, such as leaks, water damage, mold and mildew, and structural damage. Therefore, it is vital to address any roofing issues immediately, which is why you need dependable roof repair in Suffolk County.
Finding a dependable roofing contractor is easy when you choose Advanced Roofer in Suffolk County. If your roof is leaking or in need of repair, give the expert roofers you can trust a call now: (516) 987-7478
There are several factors to consider when deciding whether to repair or replace your roof. The first consideration is the age of your roof. If your roof is fairly new and the damage is minor, a repair may be sufficient. However, if your roof is older and has sustained significant damage, it may be more cost-effective to replace the entire roof. 
An experienced roofing contractor can help you determine what your property needs. Whether your roof needs repair or replacement, you always want to hire a licensed roofing contractor to perform the work for you. 
At Advanced Roofing, Siding & Gutter, we have the skills and experience required to complete the job safely and effectively, along with the necessary insurance and licensing to protect your property and our employees. If your roof has leaks or other issues, contact Advanced Roofer for help today!
Types of Shingles We Repair
There are several types of shingles that roofers commonly repair: asphalt shingles, wood shingles, and slate shingles. Our goal is to fix your roof using the best products that fit with your existing roof using the correct underlayment, shingles, styles, and colors. We repair and replace a variety of shingles from the most respected brands available. In addition to shingles, we also replace, install, and repair vinyl siding. To learn more about our options and pricing, reach out to us today.
Roofing Installation Contractor in Suffolk County
Your roof protects your family, friends, and belongings. So you shouldn't trust your roof installation to just anyone. Our team has the tools, expertise, and experience to properly assess and repair or replace a roof. For over 20 years, we've provided exceptional workmanship for our customers in and around Suffolk County, NY and many of our customers come back for repairs and replacements when needed. 
When you hire a reputable and experienced contractor, you can be sure that your roof is repaired properly and will continue to protect your home or building for years to come. Call us today for a free in-home or in-office estimate for your roof replacement or repair.
Not all roofing contractors are the same. First and foremost, we have a team of highly trained and experienced roofing professionals. Our team has been working in the roofing industry for more than 20 years and has the necessary expertise to properly assess and repair any type of roof. We have a thorough understanding of all types of roofing materials and systems, and we know how to properly fix any issues that may arise.
In addition to our expertise, we also prioritize safety. We understand that working on a roof can be dangerous, and we take every precaution to ensure the safety of our team and our customers. We use top-of-the-line equipment and follow all safety guidelines to ensure a safe and successful job.
Advanced Roofer: Your Local Roofing Experts
Advanced Roofer is dedicated to providing the best roofing services in Suffolk County and the surrounding areas. Our team provides excellent service to all our customers to ensure their satisfaction with our high-quality work. We take the time to listen to each customer's needs and concerns and work closely with them to come up with the best solution for their roofing needs. Call us today to learn more about our reliable, trustworthy, and dependable roofing repair in Suffolk County, NY!
We are so grateful we chose Scott and his company to install our new roof. Him and his crew were professional and friendly. The whole process was quick and he gave us a very reasonable price. We will definitely recommend him to our friends and family!
Scott's large crew was experienced, thorough, and efficient. They adeptly removed three layers of old roofing and expertly installed our new roof in a single day. Scott was directly involved in overseeing progress and remained on site afterwards to survey all details and ensure a full cleanup. All our questions were answered before and after the work was completed. We feel confident in recommending this company. Scott and his workers take their job seriously, gave us personal attention, and delivered results that resulted in both good value and high quality.
Dori Hirsch-Amendola
2022-05-21
We had such a great experience with Scott and his crew for our roof replacement and new vinyl siding job. From the moment I first contacted him, Scott always responded quickly and stayed in touch with updates regarding supplies coming in, when he'd be able to begin the jobs, etc. This was a big job that also included closing off an area in the front of the house where the roof line was not originally built straight across, and Scott completed that alteration beautifully. He and his crew ripped off our old roof and completed the replacement in one day-and it's a big roof, and also included replacing two skylights and removing a chimney pipe and box around it on the roof! We had multiple estimates for our project and Scott's price was by far the best. Soon after our roofing job was done, Scott and his crew also did an excellent job installing our new vinyl siding. By the time they were done, our house looked brand new!
It was a pleasure working with Scott and his crew. They were incredibly professional, efficient, responsive, reliable and fairly priced. Really couldn't be happier with the final results on the replacement of all siding and gutters. Great experience.
Very satisfied and highly recommended - 5 stars Everything you want and expect from a company. Fair price, quality material and workmanship and top notch service. I highly recommend Scott and his crew and know I made the right choice when I choose them to replace my roof.
Scott the owner of Advanced Roofing & Siding came highly recommended from a client of mine. From the initial phone conversation to the estimate and hiring, Scott was an absolute professional! He was punctual, detailed with the process, gave honest advice and feedback with my questions and his pricing was fair. He brought the samples to my house and I was able to pick them out on the spot not having to run around, saving me time as well! He just finished the job and I could not be happier! Scott and his team were efficient, unbelievable craftsmanship and so clean! At the end of each day they left my house immaculate and organized. His team was so nice as well. They all pay attention to the smallest details, which means so much. Scott and his team achieved my vision and I could not be happier! I did a full roof replacement (had 3 layers btw), new board and batten siding and new gutters. If you are looking for any roof or siding needs, call Scott at Advanced Roofing & Siding, hands down the best! Thank you Scott and your team, I am grateful!
Jeanine Navarro
2022-03-05
We highly recommend Advanced Roofing! Scott and his team were very professional, quick, efficient and reliable. They did an amazing job installing a new roof, siding and gutters. Scott made the whole process easy for us and pricing was very competitive. We had called five different companies and Scott was the only one who actually took time guide us through the process and offer suggestions. His team was so thorough and professional throughout. Highly recommend!!!!
Words can't describe how great the entire project went from start to finish. The end result has brought a lot of attention and compliments in the neighborhood. If I could give more than 5 stars I would. Highly recommend using Advanced Roofing Siding and Gutters to anyone. I still have their sign displayed on my lawn in hopes they receive more business.
Robert DiGiacomo
2022-02-09
Absolutely one of the best experiences I have had with a contractor. Scott was a professional who offered a competitive estimate. What made the difference was when he and his amazing crew got to work. They did an amazing job in re-roofing my home, and left the property spotless when the job was done. I would highly recommend him for any of your roofing or siding projects. 5 Stars!